Composite resin trench cover plate is a special covering equipment for road drainage. Common materials are cast iron and composite resin. It can be used for 20 to 30 years, its size is designed according to its location, high load, excellent drainage effect and unique anti-theft function.
Cast iron trench cover plate has a certain bearing capacity, but it is easy to be corroded, rusted, broken, stolen and other defects. In the process of installation and use, to do a good job in anti-corrosion, anti-theft treatment, which requires certain maintenance costs, heavy weight, transportation costs and labor costs. What are the characteristics of resin composite trench cover? Large leakage area, strong toughness, high bearing capacity, good resilience, corrosion resistance, high temperature resistance, fire resistance, anti-static, no recycling value of materials, even if there are steel bars, the cost of taking out steel bars is also very high; the appearance design is also very extensive, the foundation can meet all the needs of users. It is suitable for gas stations, chemical plants and other flammable, explosive and corrosive places.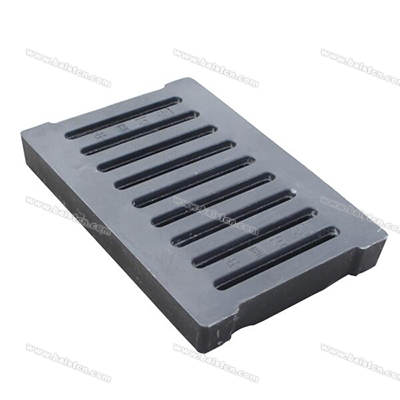 Strong impermeability: the resin composite manhole cover is made of unsaturated resin glass fiber and other materials and steel framework, which is compounded by special production process. It is molded once at high temperature, and the material has no recycling value.
Long service life: through the use of high-performance resin, fiber and special production distribution, to ensure the penetration of resin in glass fiber, greatly increasing the adhesion between the two.
The moulded
trench cover
produced by our company is made of BMC resin material and reinforced framework. It is moulded at one time under high temperature and high pressure. This product has the advantages of high density, high hardness, high pressure, light weight, corrosion resistance, anti-aging, beautiful appearance, artistic pattern or unit name.